Random Featured Article:
Random Good Articles
MC Wiki
N/A
MC Crunchyroll Updates
N/A
MC Wiki
Quote of the Month
"Spread the word!"
— Voz —
Article of the Month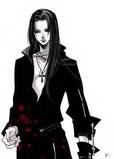 Dante
Dante is the believed son of Leviat and possible brother of Francesco Calcastado and/or Ferrinez. He is a vampire/shinigami hybrid whom is recruited by Sirberius Reono to join the Mystic Council; he accepts and becomes the first 7th Seat of the Mystic Council, a position later taken by Tiolee Cross then Dmitri Valenti. However, due to experiments conducted by Kurasawa Cross, Dante had been infused with Draethius' blood as a child but only finds out later in life when he slowly is corrupted by Demon Lord Draethius. Though not solid, a file that N.V. gave Rubi Delacoure hints that Dante's real name might be Daniel Calcastado, a subject of Valentine's Wave Project.
Helping out
To write a new article, just enter the article title in the box below. Remember, though, that admins may edit article to match MC Wiki's Character Page Format (if a character bio) or to make other changes. All members are free to edit pages in where they see errors, whether in information or things like grammar and misspelling.
Ad blocker interference detected!
Wikia is a free-to-use site that makes money from advertising. We have a modified experience for viewers using ad blockers

Wikia is not accessible if you've made further modifications. Remove the custom ad blocker rule(s) and the page will load as expected.